Greater Together Culture
We are innovative and committed to delivering excellence for our customers and partners, and we promote fairness and respect in all that we do. All of this helps us to be GREATER Together.
GREATER defines the difference in how we do things and enables us to focus on a way of working that supports us to develop, nurture and protect our culture.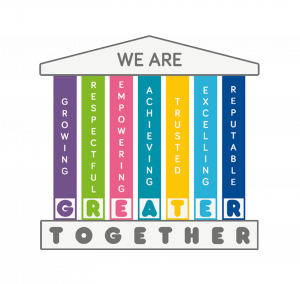 Our new GREATER cultural pillars encourage our colleagues to be:
GROWING – colleague development is important to us; we support them to grow so that together we can achieve our great ambitions. Our commitment to learning is at the heart of all we do.
RESPECTFUL – we respect all of our colleagues and encourage them to bring their true selves to the workplace.  We celebrate diversity and commit to being a fair, open and inclusive organisation.
EMPOWERING – we recognise the importance of great leadership in developing a culture where colleagues can thrive. We commit to enabling and empowering colleagues to be and do their best.
ACHIEVING – we are highly ambitious and recognise we have very high standards and expectations. We are proud of this and commit to supporting our colleagues to achieve success together.
TRUSTED – we are clear on who we are and what is important to us and trust our colleagues to deliver against this in line with our values. We develop mutual trust, always remembering this isn't one way.
EXCELLING – we recognise continually improving is key to achieving our ambition to be the best; we actively invest in improving our processes, systems and services, and learn from experience.
REPUTABLE – we care about what matters to all of our colleagues. We continually provide them with a meaningful voice to shape the way we work. We do what we say we do, we remember who we are, and we operate in a way that remains true to our vision, values and purpose.