Independence and Wellbeing
Great Places provides specialist services and expert support to promote independence and wellbeing for people across our regions.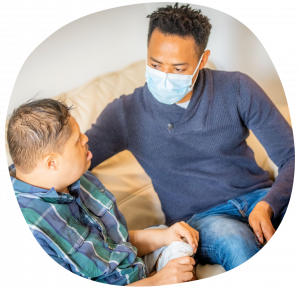 We are committed to helping our customers develop key life skills and achieve their goals. Click here to view our booklet explaining more about our offer, including our model, framework and guiding principles.
During the last year, our offer and commitment to Independence and Wellbeing included investing £4M in support revenue and employing 133 colleagues to manage services to meet a range of diverse customer needs including older people, young parents, complex families and people with mental health needs or drug and alcohol issues. We also spent around £33k on adaptations.
We directly manage supported housing projects and have 19 accommodation schemes providing short-term accommodation and support for over 300 people. 480 customers received a service in one of our supported housing schemes.
Working with our partners who provide specialist care and support, we accommodated a further 847 vulnerable customers working with commissioners across 22 local authorities.
Alongside services commissioned by local authorities, the Greater Manchester Combined Authority and other bodies, we fund a team of tenancy coaches for Great Places' customers. We invested £364k in our Tenancy Coach service, which helped 291 customers to maintain their tenancies and deliver over 900 wellbeing sessions.
Through our Independent Living offer, we invested £270k in support revenue for older people and we supported 543 customers across 15 extra-care and sheltered schemes.
Our partnership with Equity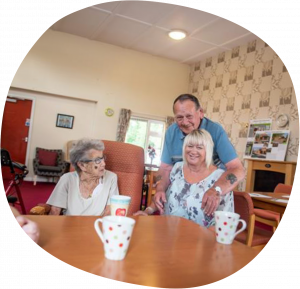 Following our merger with Equity in April 2020, the amount of specialist accommodation for older people we provided increased by 200 sheltered housing tenancies across seven services and 55 extra care tenancies across two sites, covering south Manchester, Stockport and High Peak.
The merger created an additional 275 properties allocated to older people with a range of specialist services provided.
Over the last year, we have carried out a comprehensive programme of work to integrate Equity's former retirement living function into a new Independent Living team.
This was an important step in preparing for the full integration of Independent Living services planned for 2022.
Steering through the challenges of Covid
An important focus for us over the past year has been ensuring we deliver services safely to our older and more vulnerable customers. Despite the challenges of the pandemic, our colleagues continued to work onsite within our schemes, helping to protect our customers.
We changed our approach to delivering essential services and introduced new and innovate ways to help our older and vulnerable customers combat social isolation and loneliness.  We made regular wellbeing calls, introduced gardening and book clubs, art therapy packs and provided devices such as e-readers and tablets.
Throughout the pandemic, we continued to carry out visits and crucial checks to ensure building safety compliance. As the restrictions and guidelines of the pandemic changed, we put a strong emphasis on providing our older and more vulnerable customers with clear and regular communications.