Performance against our Critical Success Factors (CSF)
Each year the Great Places' Board identifies our Critical Success Factors (CSFs) which help us to monitor progress and performance against our key business priorities and achieve our Corporate Plan objectives. This helps us to measure our success, see what we're doing well and look at the places where we may need to improve.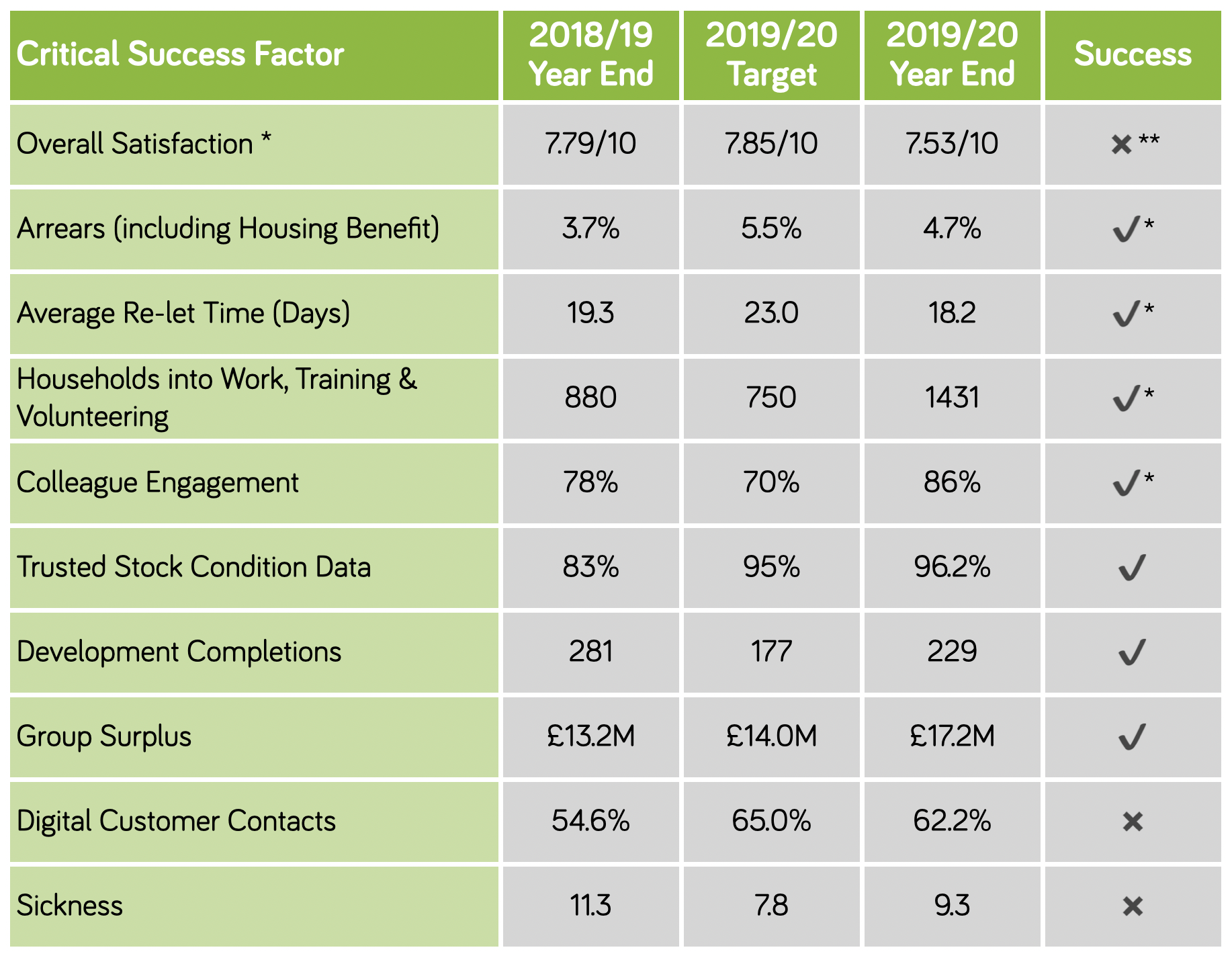 Notes
* Stretch target achieved.
** Overall satisfaction has increased for seven consecutive months and had an average satisfaction of 8.11 in March from 121 responses.

We use a variety of different ways to benchmark our comparative performance, including the Institute of Customer Service, the North West Employee Engagement Group and data provided by the Regulator of Social Housing and the Sector Scorecard.
We are above median for customer satisfaction and colleague engagement and perform well against the VFM metrics collected by the Regulator.
Value for Money
Operating Efficiencies
Our headline cost per unit is £3,246 for 2019/20.  Although slightly higher than 2018/19, it still remains below our target of £3,334 (the published scorecard from the Regulator recognised a 12% increase in this metric across the sector).
While we work in some of the most deprived neighbourhoods in the country and have a significant proportion of supported housing (which are both key drivers of costs), we are still well below the sector median for costs per unit, while maintaining above average customer satisfaction.
Environmental, Social Responsibility and Governance (ESG) – a new approach to our investor reporting
With the Environmental, Social Responsibility and Governance agendas becoming increasingly important to our existing and potential investors, in January 2020 we decided to include key updates in each of these areas as part of the quarterly performance reporting that we publish on our website.
We have:
Completed a large-scale solar panel programme in our homes and the installation of PV solar panels at our Head Office.
Completed a new development at Northfield Road in New Moston for Manchester City Council, offering specialist accommodation for people with learning disabilities.
Established a partnership with Burnley FC in the community to help get more people into training and employment.
Increased the number of tender submissions for our renewed Innovation Chain North framework by 56%.
Following a successful pilot programme, via our Community Investment team, we have offered post release support to prisoners leaving HMP Preston.
Our Green Agenda – Reducing our Carbon Footprint
Supporting our commitment to our Environmental, Social Responsibility and Governance (ESG) agenda, reducing our carbon footprint is a main priority. As a Carbon Literacy Platinum organisation, we have delivered Carbon Literacy training to 80% of our colleagues, supporting them to reduce their carbon footprints.  We have also trained external businesses both face-to-face and through an online training offer during the pandemic, and continue to invest significant sums to improve the energy efficiency of our homes and offices.
During 2019/20, we have:
Continued to service the solar panels on our homes, which to-date has generated over 8 million kWh of electricity for our customers. We have also helped customers to understand how to gain the greatest benefit from their generated electricity.
Completed energy efficiency improvement works on over 300 homes, including our pioneering approach to assessing savings for our customers.
Changed our Distribution Centre to a renewable electricity tariff, saving over 6.5 tonnes of carbon per year.
Installed PV solar panels at our Head Office, which has generated enough electricity to power an electric car around the world.
Helped Electricity North West to become the first Carbon Literate energy network operator in the world.