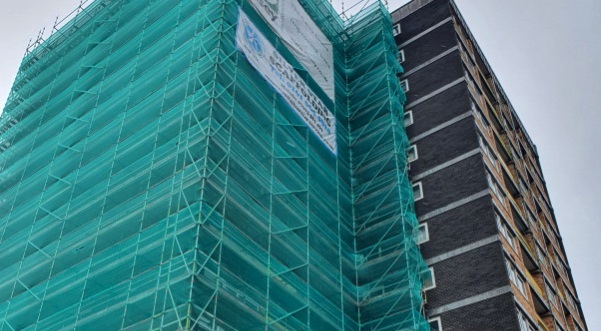 Work has begun on Great Places' £3.4million refurbishment project at Bowland House in Blackburn.
The work was due to begin in April 2020, but due to the Coronavirus it was delayed until the beginning of this year.
Contractors Casey's have started work on transforming the block to create a striking new landmark on the gateway to the town.
Planned works include:
Improving the insulation of the external walls
Installing new windows and flat entrance doors that have a 60-minute fire rating
The installation of a sprinkler system to all flats and communal areas and the installation of an innovative evacuation system, which in the unlikely event of an incident, will allow the Fire and Rescue Service to evacuate a single floor or any multiples of floors
Installing new hot water cylinders, electric showers and communal lighting and replacing the existing roof
Winter balconies to all flats to improve the look of the building
Refurbishing the communal areas and the communal room on the ground floor.
Alongside the refurbishment project, Great Places is also looking to upskill its residents. Casey's have kindly donated tablets and dongles, valued at around £1000, that will be used to carry out digital training sessions with tenants to help them enjoy all the benefits of a digital life.
Through the More Positive Together programme, Great Places has also been able to help customer Nicola Campbell into a position as the building's Covid cleaner to ensure staff work as safely as possible.
Bowland House has been dominating the skyline since the mid-60s. It was one of three blocks built alongside Ribble and Pendle, the first tower blocks to be built in Blackburn.
Ribble and Pendle were demolished at the end of the last century to be replaced by the new homes on Mount Trinity and have had millions of pounds of investment over the past 20 years leading up to the current project.
The project is expected to be completed in October.