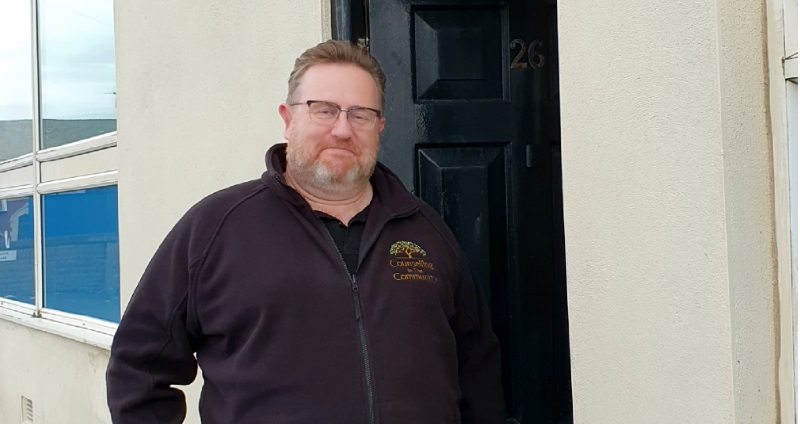 Great Places tenant Stuart Hutton-Brown's career journey has taken him from retail to counselling – but it's his new career that is giving him the most satisfaction as well as providing an increasingly vital service in the wake of coronavirus pandemic.
And his dedication to his new-found calling has been recognised as he has been nominated for a Housing Hero Award in the Tenant Innovation of the Year category.
By his own admission, he's grateful for the help Great Places has been able to provide in his personal life as a tenant and in his mission to support the people of Blackpool with their mental health.
After spending 30 years in retail and following a period of sickness, Stuart made the brave decision for his own wellbeing to leave the shop floor and retrain as a counsellor.
While retraining he became increasingly aware of the extent to which current local counselling services were struggling to cope with demand, and many local people were finding it hard to access timely support to help them cope with a range of mental health issues.
Prior to the lockdown, the service was providing services to around 80 people.
However, following the easing of restrictions, those numbers have swelled to in the region of 120 with 34 volunteer counsellors and an administrator helping Stuart ensure Counselling in the Community remains able to help people who need them.
The service deals with a variety of mental health issues including trauma, PTSD and people suffering from anxiety and depression.
He said:
None of this would have been possible without the help of Great Places.

I'm a Great Places tenant and as I had to retire due to ill health they were able to help me organise my rent payments. They couldn't have been more helpful.

This has allowed me to put all my efforts into Counselling in the Community.

The £3,000 in financial support they have given the service to help us get established and the advice and guidance have been invaluable.

There have been so difficult times but we are now about to open our second centre and we have 34 volunteer counsellors and an administrator who are doing amazing things.

We are seeing more people than ever before and we are becoming a partner of choice for the NHS."
The service has attracted a lot of media attention with Stuart and Counselling in the Community has appeared on BBC Radio Lancashire, Granada Reports as well as the local press.
As they prepare to move into their new home, Stuart is preparing to celebrate the achievements of him and his staff at the Housing Hero Awards, which will be held virtually on September 10.
He added:
To have been nominated gives the work us and our partners, including Great Places, validation. It's a rubber stamp on the hard work from so many people to help so many people in the town in these unprecedented times.

I'm very excited about being nominated, even though the awards ceremony is going to be held virtually, I'm looking forward to the event.