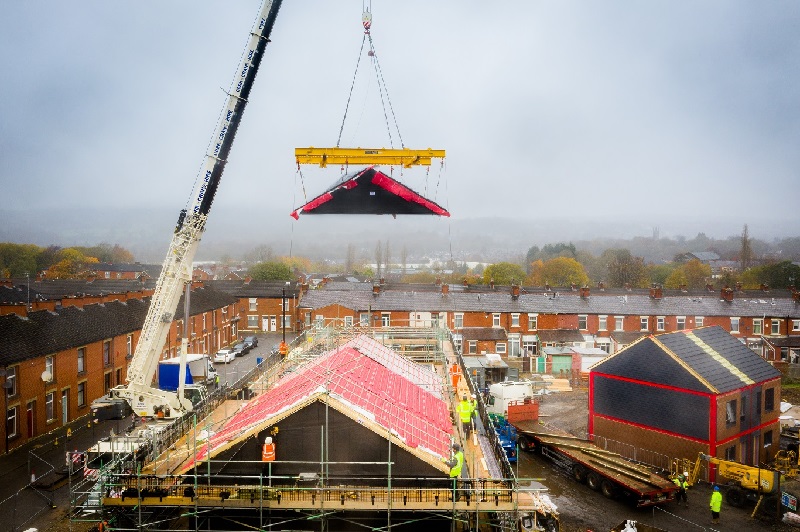 The plans to transform a derelict site close to Blackburn town centre into a much-needed new housing development of 16, two and three bed affordable homes for local families are now underway with the arrival of the first modular homes on site.
The former Laneside care home site on Shorrock Lane had been left empty for more than 10 years. It was in serious disrepair, with the building becoming the target for vandals, fly tipping and anti-social behaviour.
The £2.8 million scheme, which received council approval earlier this year, is part funded by Homes England and is being delivered in partnership with Tyson's Construction. The site represents Great Places' continued commitment to bring more family housing to Blackburn with the increasing use of modular construction methods, which speeds up the build process.
Shorrock Lane is the housing group's first fully modular venture with half of the new homes constructed using a panelised modular construction manufactured by Osco Homes, while the remainder will use a fully volumetric modular construction method manufactured by Ilke Homes.
In line with Great Places' commitment to delivering social value as part of its projects, Shorrock Lane will also look to create work opportunities and work experience opportunities in partnership with Northern Edge Consultancy Ltd, who are also involved in the venture as well as a contribution to tackling digital poverty in the borough.
Commenting on the scheme, Councillor Phil Riley, Executive Member for Growth and Development, said:
It's really exciting to see the arrival of new homes to replace the derelict building that has blighted this site for so long and it needed a great piece of work by council officers and Great Places to bring about this transformation. Well done to everyone.
Matthew Harrison, Chief Executive at Great Places, added:
We're delighted to be able to transform the site using the latest building techniques to provide much needed affordable homes to the local area. We've worked with planners to tailor the new scheme to meet local demand, providing a high-quality living environment which is sympathetic to its surroundings whilst reflecting the distinctive characteristics of the local area.
Jeremy Whittle from Tyson, said:
We have a long and strong relationship with Great Places Housing Group and are proud to be involved in their first fully modular housing development.  We recognise the Government's drive to increase the delivery of affordable housing using modern methods of construction and we will continue to work with Great Places to help them deliver this strategic objective.
All the homes will be energy efficient, reducing fuel bills for residents and reducing carbon emissions and protecting the environment. The generously designed houses with private gardens and parking will also provide a safe and convenient living environment for growing families.
The site is set to be completed by March 2021.