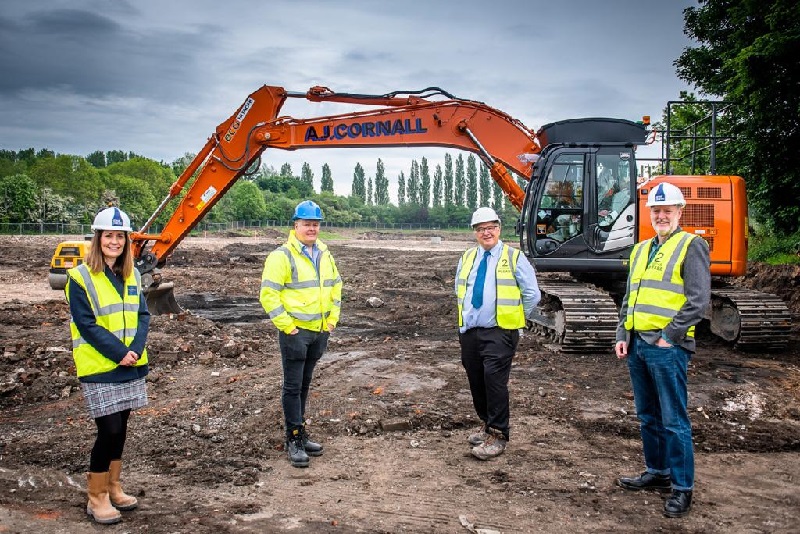 Mayor of Stockport, Councillor Adrian Nottingham, officially marked the start of construction work at Great Places £24M flagship housing development at the former Cranford Golf Centre in Heaton Mersey, Stockport, which has been vacant since 2014.
The new development will provide 106 new homes, including a mixture of two, three, and four-bed affordable houses and apartments for social rent, shared ownership (through Plumlife) and a further five homes for market sale (through Cube Homes).
Following their merger with Equity Housing Group last year, Great Places has become part of the Stockport Housing Partnership, enabling them to work closely with the Council to bring forward this much needed affordable housing development, which reinforces their commitment to build much-needed new homes across the borough.
The site consists of approximately 2.62 hectares of land that formerly comprised of the vacant golf driving range and the associated buildings in the western part of the site, together with the grassland of the driving range to the east.
Developer, Breck Homes has carried out all remedial work, construction is now underway and completion is expected in early 2024.
Matthew Harrison, Chief Executive of Great Places said:
We're delighted to bring this flagship development to Stockport, our first in the borough since our merger with Equity Housing Group last year.

Great Places is committed to addressing the housing crisis and this new development will provide much needed affordable homes for a range of customers.

The site has stood vacant since 2014 so the new homes will breathe life into the local community and we're very pleased that work has now commenced.
Mayor of Stockport, Councillor Adrian Nottingham, said:
This site has been ripe for development for a number of years and we are delighted to have work starting.

The new affordable homes will provide families with a great place to live and benefit the local economy with an influx of new customers.

There is a need for this type of housing in Stockport and we are delighted to be working with Great Places to bring this development to fruition.
Andy Garnett, Director at Breck Homes said:
We are delighted to be working with Great Places at Cranford to transform this site and create a vibrant new community in Heaton Mersey.

We have a strong track record in delivering fantastic, modern homes that will allow the people who move in to live and grow for the years to come.

Given the multi-tenure nature of the development, we're delighted to have started work on the site and look forward to see it progressing.
For more information regarding the shared ownership properties, visit www.plumlife.co.uk or for the market sale homes, visit www.cubehomes.com.