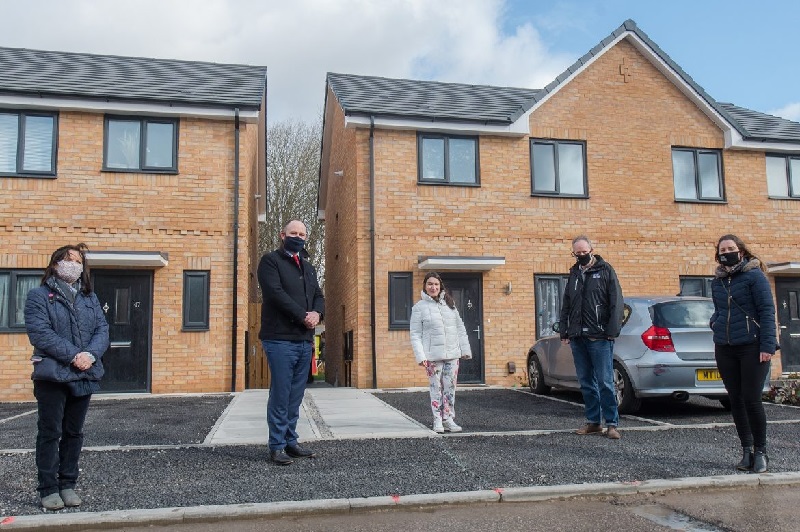 The Mayor of Salford Paul Dennett joined Great Places Housing Group and contractors Seddon on a visit to the recently completed Foxwood development in Salford, which looks to address the need for additional affordable housing in the city.
The Mayor along with the Deputy Mayor and Lead Member for Housing & Neighbourhoods Cllr Tracy Kelly, joined Great Places' Chief Executive Matthew Harrison, Director of Development Helen Spencer, and Seddon's Housing Director Duncan Williams to take a tour of the new neighbourhood and meet with residents who have recently moved into their new homes.
Delivered by Great Places in partnership with Cube Homes and Seddon and supported in part with funding from Homes England, the £10.6 million development provides 72 new build two, three and four-bedroom family homes for rent, shared ownership and market sale, offering a range of options to meet the needs of the local community.
Foxwood also includes eight two and three-bedroom homes for affordable rent owned by Salford City Council's social housing company, Dérive. Dérive was set up in 2018 with £2 million of Section 106 money from developers, along with other funds from the council. Eventually the business model for the social housing company will self-finance affordable housing by selling some of the houses and letting others at market rents.
Commenting on the visit, Salford City Mayor Paul Dennett said:
I'd like to thank our partners Great Places, Cube Homes and Seddon for making these plans come to life. "We have almost 6,000 people on our housing register who are in desperate need for new affordable homes. For each home that becomes available we have 63 people bidding for it.
Deputy City Mayor Councillor Tracy Kelly Lead Member for Housing at Salford City Council and a Director at Dérive, added: "It is so sad we cannot provide an affordable home for each person who needs one.
"But in Salford we are continuing with our plans for more affordable homes and it was fantastic to visit the new estate at Duchy and see those plans in action. We will continue to use all our powers and resources to tackle this housing crisis for local people."
Matthew Harrison, Chief Executive at Great Places, added:
We're delighted to have delivered a range of new homes working alongside Dérive and Cube Homes on this flagship development that provides more much-needed affordable housing in Salford.

Affordable housing continues to be a key priority for all of the areas we operate in. Salford is a key development area for Great Places, and we're committed to creating great homes and building a strong sustainable community in the area.
Duncan Williams, Regional Housing Director at Seddon,  said:
We're delighted to be involved in the Foxwood scheme and to be building more affordable homes in Salford.

This project is a flagship for everyone involved and it's fantastic to be working hand-in-hand with Dérive, Great Places and Cube Homes to bring developments like this one to life.