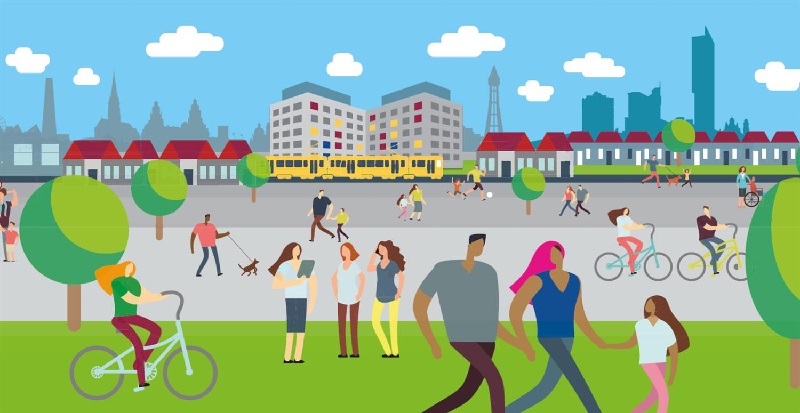 At Great Places we put our customers first, and it's been great to see how different teams across the business have responded to COVID-19 and adapted their ways of working to continue to support our customers. This week we checked in with the Community Investment Team to find out what life in lockdown has been like for them.
Community Investment Managers
The role of our Community Investment Managers is to oversee and manage the work of the Community Investment Team, implementing the Service Delivery Framework to achieve our vision of alleviating poverty and disadvantage and creating sustainable, vibrant communities where our customers want to live. Here's how they have been doing this and supporting our customers from home.
Craig Stone 
What have you been up to?
"I have been coordinating follow up calls for customers who have identified as vulnerable, which has included delegating lists to the Community Partnership Managers in GM North, GM South and South Yorkshire, as well as procuring support from the Assets Team to cover Lancashire – so it's been a real team effort.
"I've also been supporting customers with employment and training. This began with Community Partnership Managers texting customers in their regions, with follow up telephone calls for those needing support to establish their needs. Support was acquired from the Tenancy Coaches with regards to follow up calls."
Keira Burns
What have you been up to?
"I was kept busy during the beginning and peak of COVID-19 by making sure that the team were supported to work from home and that we had the right crisis services in place in all the local authority areas I cover to support customers in the best way as possible. I also took on some vulnerability calls and signposting duties during this time too. We have since moved back into employment support, rescheduling projects and starting as many programmes up again as we can and looking at how we now support customers as we enter the recovery stage of COVID. We expect to continue being very busy and have already seen an increase in referrals to our team over the last week or so. I have also continued to oversee the More Positive Together programme to the best of the team's ability."
Community and Partnership Managers
Our Community and Partnership Managers focus on partnership working within their region to develop a comprehensive Community Investment offer, identifying gaps and creating opportunities. Here's how they have been working during the lockdown.
Laura Reynolds
What have you been up to?
"I've spent a lot of my time making calls to those on the vulnerability list in GM South and initially responding to the crisis through sourcing opportunities for customers to access emergency food support and financial support. More recently we have started to look at our 'recovery' and I am therefore reviewing all of the projects we committed to and assessing which ones can go ahead, with some changes in place, and which ones we may need to postpone. This is involving discussions with our partners on what is now deliverable which has been great to start doing again!"
Felix Dyer
What have you been up to?
"Establishing support networks and enhancing the offer key referral organisations can provide so that a broad, coronavirus response support offer has been provided to our residents. As a result of this work, our most vulnerable Yorkshire residents have had access to support with shopping and medication, a friendly weekly check-in call, free cooked meals delivered to their door, emergency electricity meter top-ups and children activity packs."
Aateeka Bashir
What have you been up to?
"Dealing with the council hubs with the COVID response and working to respond to the needs in the local community. I've been identifying local opportunities in Lancashire, activities for adults, children, employment opportunities, online training opportunities. Liaising with partners and looking at new ways of developing and delivering projects. Supporting and mentoring tenants through this period and searching for employment and training opportunities suitable for them and supporting the Preston Prison cohort. Some have needed professional counselling support, employment support and general welfare checks have been made to ensure that they are being fully supported to enable them to become employment ready and not re-offend."
Employability Coaches
Our Employability Coaches are here to help customers identify the skills and tools they need to seek employment or training now or in the future, and here's how they have been doing that during over the past few months.
Kerry Connors
What have you been up to?
"I've been managing my current caseload of customers whom I was working with pre lockdown, telephoning them to ensure everything is ok and offering support virtually if required. I have completed virtual sign-ups for More Positive Together (MPT) to sign new customers looking for employment due to the pandemic. I've also been revisiting administrative work required for the MPT project and ensuring it's all up to scratch ready to proceed when face-to-face can resume."
Kallum Edwards
What have you been up to?
"I've been continuing to help our customers by providing support and guidance around employment, volunteering and training opportunities, however, this has all been done over the phone and email as opposed to my usual face-to-face method. I've been keeping track of what opportunities are available in each region and making sure I keep up to date with what support is available."
Cara Chisholm – Welfare Benefits Adviser
What have you been up to?
"I've been busy keeping up to date with all the changes in the benefits system and communicating this out to colleagues and dealing with demand e.g. complex welfare benefits cases etc. I have been speaking directly to some customers about their benefits issues and made some of the vulnerability calls which was nice as I don't usually get to speak to customers."
Daniel Mountford – Fundraising Specialist
What have you been up to?
"I have been busy setting up the emergency Hardship Fund for individual customers with the support of colleagues. I have been making decisions on applications to Hardship Fund for customers of which we have had 87 to date. I have also been continuing with my fundraising role supporting a number of partners and charitable organisations."