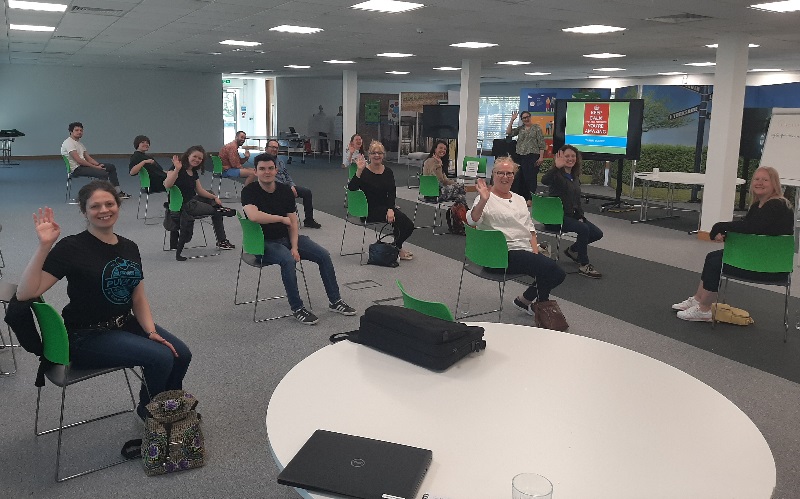 ADAPTABILITY is the name of the game in these challenging times, and Great Places' colleagues are proving their flexibility to help the most vulnerable people in society.
Our multi-skilled colleagues are finding new ways to help different
Jo Hampshire, a Customer Engagement Specialist, is using her skills in a former career have helped Open Kitchen's delivery service to vulnerable people soar during the pandemic crisis.
Jo is using her expertise as a cabin crew trainer to train volunteers to support Open Kitchen to pack and deliver food across Manchester.
As Jo had some spare capacity because of the virus, she's to help train volunteers in food hygiene so they can help to safely pack the meals ready for distribution.
Some of the most vulnerable people across Manchester will receive three prepared meals which will be delivered to them in pre-prepared containers, a bit like a takeaway, and others will receive the ingredients so they are able to prepare their own meals.
The training is taking place at Great Places HQ with the training area specially adapted to ensure that social distancing rules are observed with people arriving and leaving in single file and staying two metres apart at all times.
Jo said:
I have training skills from my role with a past employer and my name came up when the need for experience in this area was discussed.

Because some of the work I do has been temporarily suspended, I found I had some capacity and I was delighted to be able to help Open Kitchen.

This service is incredibly important because without it, some of the most vulnerable people in Manchester will literally starve, and that clearly cannot be allowed to happen.

I observed a full training session initially and my first session was delivered on Tuesday (April 21) which I really enjoyed.

By doing this training, which is a modified version of a Food Hygiene Level 2, Corin Bell, Open Kitchen Manchester's Director, can concentrate on the logistical side of the operation.

It's a fantastic initiative. The chefs are fantastic and are being innovative, preparing balanced and nutritious food in Onward Homes' kitchen across Derwent Avenue, for people who need it most during these troubled times.

It's not the introduction to Great Places anyone was expecting but it's been fantastic to see everyone pulling together. It'll be nice to properly meet colleagues once it's safe to do so.

But for now, it's very satisfying to help a fantastic project like Open Kitchen and help people in need across Manchester.