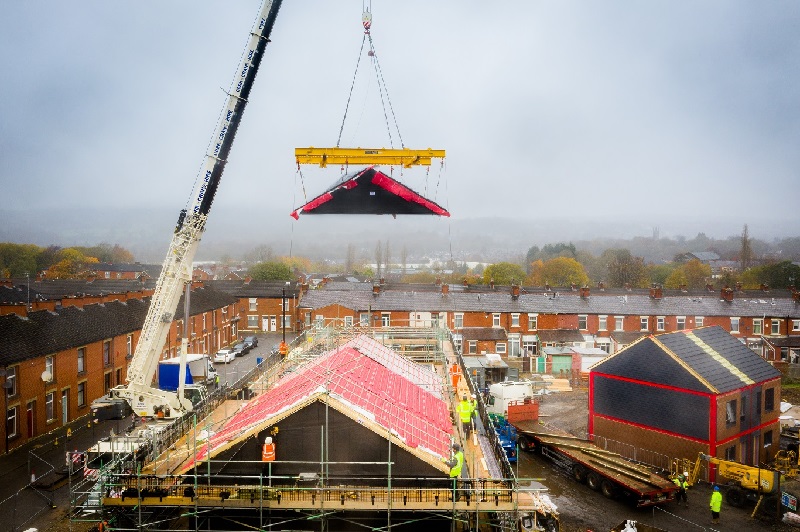 Eight modular housing suppliers have been successfully appointed to a new Dynamic Purchasing System offered as part of Great Places Housing Group's £750m Innovation Chain North (ICN) procurement framework.
A total of eight firms were successful in the first wave of appointments. The successful suppliers selected are Ilke Homes ltd, Adston, Cygnum Timber Frame Ltd, LF Fasthouse Ltd, Net Zero Buildings Ltd, OSCO Homes Ltd, Extraspace Solutions Ltd and Ideal Modular Homes Ltd.
The Modular DPS has been set up alongside the existing ICN framework, to support affordable housing providers with the delivery of new homes across the north of England. The system will also support Great Places' commitment to the increasing use of modular construction methods, which speeds up the build process.
The Modular DPS is supported by principal contractor and groundworker lots on the main ICN framework, and will provide clients with various routes to the delivery of modular homes, including panelised, volumetric units, turnkey and the opportunity to supply our ICN housetypes. Alongside ICN's contractor and professional services framework, this new market offer will enable clients to access modular suppliers direct for the provision of new homes in a compliant manner, having been procured under the Public Contract Regulations 2015. Clients will select suppliers from the four available lots via mini competition only with all being invited to tender. The whole process will be managed electronically via an e-tendering portal.
Commenting on the announcement, Helen Spencer, Great Places' Director of Development, said:
We'd like to congratulate the suppliers who have been successfully appointed to our ground-breaking Modular DPS, a significant and welcome addition to ICN's existing client offer. The dynamic purchasing route provides the flexibility for us to welcome new entrants in this rapidly growing market.

We were delighted by the response from interested parties and received a significant number of high-quality applications."The new DPS will ensure we, and our peer organisations, have tried and tested partners to help us use the latest innovative construction methods to deliver our extensive development programmes and Great Places' ambition to be developing the majority of its new homes using modular construction techniques by 2028.
The Modular DPS is open to all modular home suppliers who can submit their interest to join at any time by contacting icn@greatplaces.org.uk