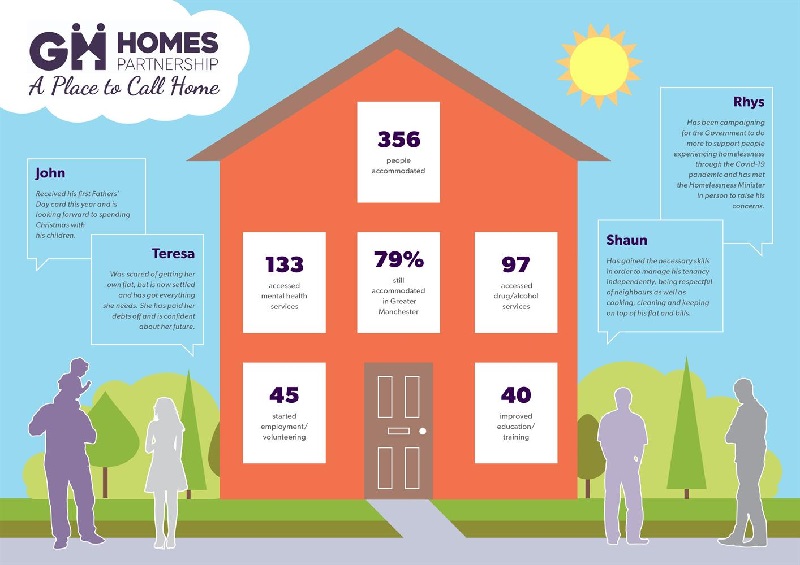 The Social Impact Bond (SIB) a three-year project Great Places has partnered in to tackle homelessness in Greater Manchester ends this month and has exceeded all expectations thanks to its new and innovative approach to tackling the issue of entrenched rough sleeping.
Led by GM Homes Partnership and working with the support of the Greater Manchester Combined Authority (GMCA) and the Mayor of Greater Manchester, Andy Burnham, the SIB has been an integral part of a wider strategy to prevent and reduce homelessness in Greater Manchester over the past three years. Since 2017, the number of people recorded as sleeping rough on the streets of the city-region has declined by 57%, thanks to the successes of innovative programmes such as the SIB.
The initial aim of the project was to work with 200 people experiencing long-term homelessness, through the dedicated support of Great Places and the other delivery partners Shelter and The Brick.
To date, the partnership has supported almost twice that number (356 people) into accommodation, thanks to invaluable support from Greater Manchester Housing Providers (GMHP). The initial funding sum was increased in 2018 to £2.6m, due to the unprecedented demand from participants and the obvious ongoing success of the invaluable work.
Commenting on SIBS achievements Mayor of Greater Manchester Andy Burnham said:
Over the last four years, Greater Manchester has been improving our response to homelessness and learning more about what makes a real difference. Our Social Impact Bond (SIB) has made a massive contribution to that journey of greater understanding and I would to pay genuine tribute to all the partners: Bridges Outcomes Partnerships, One Manchester, Trafford Housing Trust, Shelter, Great Places, The Brick, the Greater Manchester Housing Providers and the Bond Board. The SIB's successes are obvious and deserve enormous praise – in many ways, as a model it has laid the groundwork for all sorts of homelessness programmes and strategies that have followed.

The SIB, alongside other schemes we have commissioned at GMCA, has helped turn lives around and has had a truly positive impact on the numbers of people who are sleeping rough. Many people now have safe and warm homes, as well as the support they need, and thanks to the SIB can look to a positive future.
The end of the SIB initiative is also being marked during December by 'A Place to Call Home', a month-long online campaign on GM Homes Twitter account to recognise what has been achieved over the past three years and highlights and shares the experiences of participants and partners.