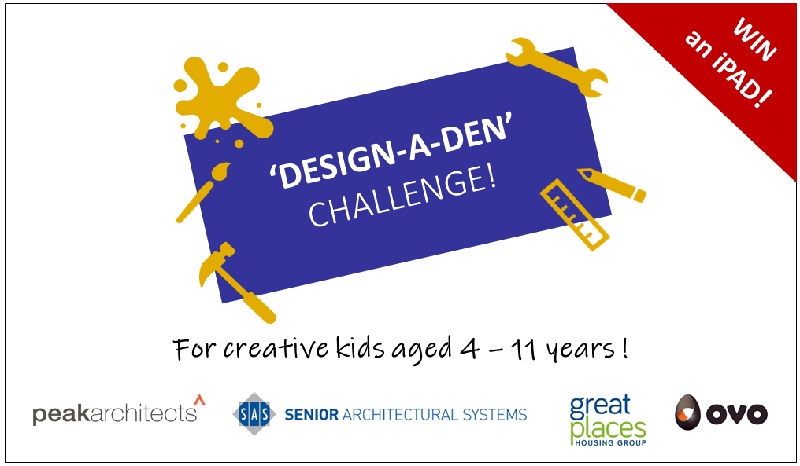 Great Places is teaming up with a group of local businesses to partner on a design competition aimed at primary school children in the South Yorkshire and Peak District areas.
The 'Design-A-Den' competition has been devised in partnership with architectural practice Peak Architects, aluminium glazing systems manufacturer Senior Architectural Systems, and commercial interior design and fit-out specialist OVO Spaces. Aimed at local children between the ages of 4 and 11 years, the creative challenge hopes to provide a little creative inspiration for those children and their parents who are currently home-schooling.
Kids are encouraged to use their imaginations to design their ideal den and to share their ideas by sending in a photo of what they have built, whether this is a drawing, model or actual size retreat.  The competition is split into different age groups (4 to 6 years, 7 to 9 years and 10 to 11 years), and the winning designers from each category will win a top prize of a brand-new iPad. Runners up will also receive a creative art set. The competition is open until Friday 1st May and the winning entries will be chosen by the judging panels which comprises representatives from each of the companies as well as guest judges.
With many schools now closed in response to the current COVID-19 outbreak, the competition has been designed to appeal to children as well as their parents and teachers, and provides a great opportunity to learn more about design, construction and engineering.  The children are particularly encouraged to think about sustainability and how recycled materials can be reused or upcycled to feature in their very own eco-friendly den design.
Entries for the 'Design-A-Den' competition should be submitted as JPEG or PDF documents and emailed to designaden@peakarchitects.co.uk before Friday 1st May.  Full details and terms and conditions for the competition can be found by clicking HERE.