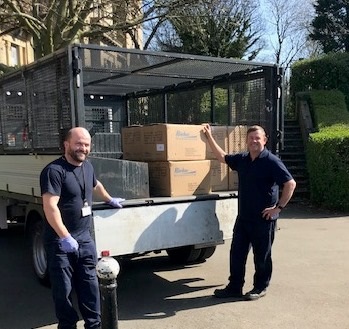 GREAT Places has donated £4,000 to the Spirit of Salford scheme which is providing a lifeline to the people of the city.
The 24,000-home association has been working closely with Salford City Council to support their response to the pandemic crisis since early March.
The Spirit of Salford is providing a dedicated helpline for people who are self-isolating who need with activities such as food shopping, getting essential medication, topping up gas or electric meters, and looking after pets.
The dedicated hub, and its partners, can also off money and employment advice.
Great Places Head of Neighbourhoods Anila Khalid said:
Salford City Council has been an extremely proactive local authority in Greater Manchester in responding to this crisis and we were involved in the regular Resilience Forum meetings from the start.

We have nearly 3,000 homes in Salford and we have been able to contribute to the strategy and  we wanted to make a financial contribution that will help towards providing meals and the general running of the scheme.
City Mayor Paul Dennett said:
This is a fantastic gesture from Great Places which will help support some of the most vulnerable people in our community. We are currently offering hundreds of food parcels every week and providing much welcomed contact for people who are isolated at home.

I can't thank Great Places enough, all our supporters and keyworkers and all Salford residents who are doing the right thing and staying home to save lives.

This is the true Spirit of Salford and it is getting us through these very difficult times.
Great Places has lots of advice for tenants at www.greatplaces.org.uk for people in the city.