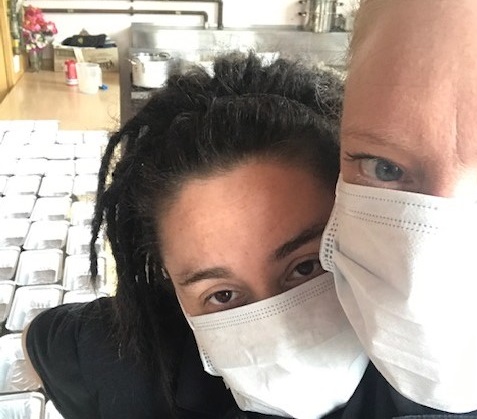 A BIG-HEARTED pair of Great Places tenants from Earby have cooked up a scheme that has become a lifeline for vulnerable people during the pandemic lockdown.
Jess Lomas and Claire McGlone have adapted their catering business into a food delivery service, delivering as many as 70 delicious and nutritious meals across Earby and Barnoldswick twice a week.
The pair started their catering business by creating a luncheon club at the town's community centre more than four years ago to help provide meals to vulnerable people.
And with a little help from Great Places they started their cake business as they were able to get funding to buy new equipment and produce business cards to expand their operation.
They were also invited by Great Places to put on training sessions to help vulnerable people with their self confidence and scooped Great Places' Community Champion Award last year for their work in their community.
The luncheon club has been a success, but when the lockdown was imposed, the pair, with the help of a volunteer, sprang into action and started to deliver food to the homes to their 30 regulars.
In a matter of weeks, they have more than doubled the amount of meals they are making as the demand from vulnerable people increased.
Jess said:
When the lockdown started, we were worried for our business and for the people that came to our lunch club, because for some of them they were the only hot meals they had in a week.

So we decided that we would make the food and deliver them to our regulars. A lot of our regulars might be self-isolating for 12 weeks so they need the help and a friendly face.

Word soon got around and we had a lot more requests for meals so we had to ramp up our operation to ensure we are able to meet demand.

And it's not just older people that are getting in contact. We have had younger people, who need us. We had one chap who was self-employed but was struggling to get food so we have been able to support him.

A lot of people don't have families, or their loved ones live away, so it provides piece of mind as well as food and a friendly face.

We try and help as many people as we can and even though it's exhausting but it's fantastic.

The people we deliver too are fantastic and they are so happy to see us. We have a lovely chat and it really makes everyone happy in a difficult time.

"People have really come together and we have had lots of great feedback, and a lot of very kind donations, including £250 from Great Places, which has allowed us to provide meals.

It's been very hard work, shopping for the meals and helping to get shopping in for a few people who can't get out, but it's been so worth it."
For more information about the service, or if you would like to make a donation, please search for Just Ask Jess on Facebook.