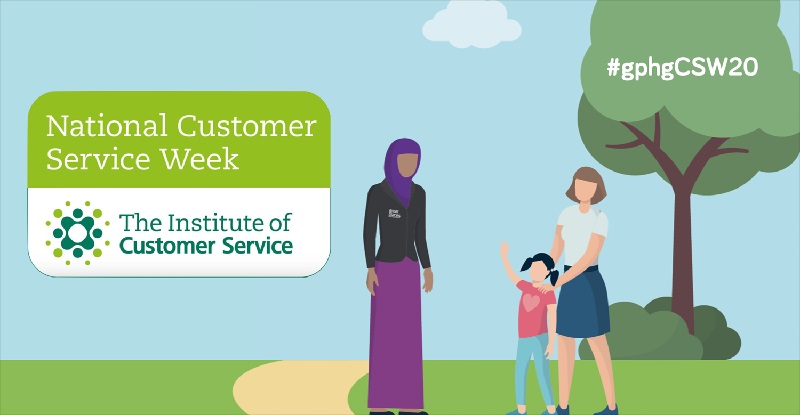 This week is National Customer Services Week. We're highlighting the services that we provide to our customers to make life easier and help us improve. Find out more about our online customer portal, learn about Live Chat, how to join our Insight group and how to tune in to our Q&A session.
Online customer portal to manage your Great Place
Did you know over 5000 customers are already taking advantage of the benefit of using the customer area on our website to manage their home. Our designated secure customer portal puts you in control. It's available anywhere and anytime, as long as you have a Wi-Fi connection.
Sign up to view your rent balance and pay your rent at a time that suits you. Don't wait around. Get online and log in to your account or register by visiting MyPlace
If you've already signed up you do not need to do anything, we hope you are finding it useful. If you are a former Equity customer – we are working on making this available for you.
A tap to fix a tap – It's 4 times quicker by Live Chat
Reporting a repair?
Whether it's a blocked toilet or drains, a stuck door or broken handle, don't wait around on the phone to report it our Live Chat is 4 times quicker. It's quicker than sending an email. It's much quicker than phoning us. It's available on a mobile phone, tablet and laptop from 8am – 6pm Monday to Friday.
Not sure how to get started? Simply visit greatplaces.org.uk. Locate the chat window. Look to the bottom right of our website, there's a box ready for you to click. And you're ready to get going. On your smartphone it will be a blue box at the top of the website. Tap on the box and start your chat.
You can also contact us through our customer portal. Simply visit greatplaces.org.uk/portal.
Want to join our customer scrutiny group?
We are looking for customers to join our scrutiny group, Insight, who play a role in shaping how we work and in holding us to account.
It's an exciting opportunity to work alongside other customers, to carry out research and collaborate on reports that are considered by our Executive and Board.
Watch our customer Q&A session, coming soon!
Our customers have submitted questions on a range of service-related issues. You can catch up on the recorded Q&A session later in the week by visiting YouTube or Facebook page.
Improving customer experience
In coming weeks we will be looking to launch our Customer Experience Strategy which will consider a range of ways to improve our services including improving communications with customers, investing in digital services, changing the approach to complaints handling and improving our response to feedback.