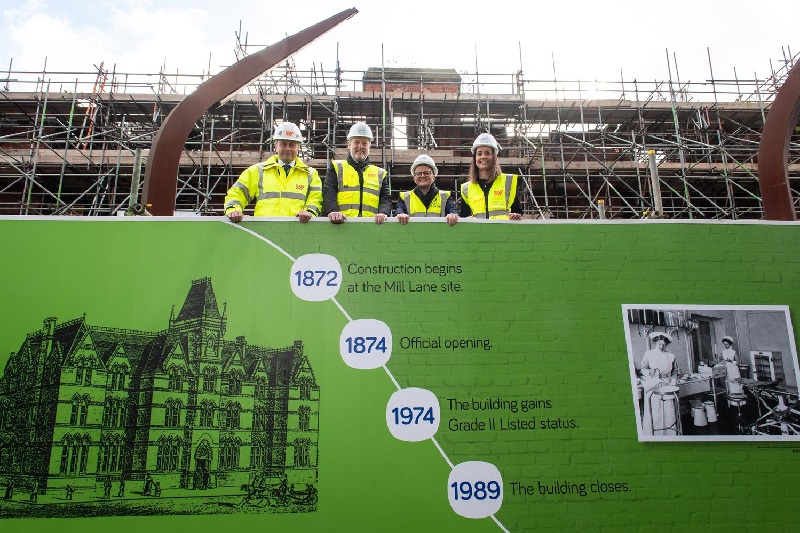 Councillor Bev Craig, Leader of Manchester City Council, joined Great Places Housing Group to mark the official start of work on the £10 million redevelopment of the iconic former Ancoats Dispensary into affordable homes.
Cllr Craig and local Ancoats and Beswick councillor Cllr councillor Cllr Majid Dar were joined by Great Places' Chief Executive Matthew Harrison at the site of the former hospital, set to be transformed into 39 one and two bed apartments available for affordable rent.
The plans, delivered in partnership with Manchester City Council, the Greater Manchester Combined Authority (GMCA), Homes England, and Contractors Eric Wright, will look to preserve as much of the original Grade 2 listed facade as possible.
The design by Buttress Architects focuses on preserving the Old Mill Street and Lampwick Lane facades. Great Places has worked on the proposals with a variety of stakeholders, including Manchester Life, who have been instrumental in restarting the neighbourhood's regeneration since 2014, as well as the Ancoats Dispensary Trust.
The Dispensary, close to Manchester city centre, was built in 1874 to provide healthcare for the city's growing population alongside the Royal Infirmary. The local landmark remained in use until 1989 but has been vacant since then. This has led to the building progressively deteriorating and currently requiring scaffolding to hold up what remains of the existing structure.
The development is the first project in a new, coordinated phase by Great Places, Manchester City Council and Manchester Life to deliver over 400 new homes for a broad range of housing needs. Overall, the proposals support Manchester's housing requirements and provide space for more local businesses and community activities.
This phase is a continuation of coordinated regeneration and development across the neighbourhood in recent years. The programme has seen Ancoats transform from an area characterised by dilapidated buildings, vacant premises and deprivation into an attractive and vibrant mixed-use neighbourhood and extension of the city centre.
Commenting on the start of the project, Matthew Harrison, Chief Executive said: "We're delighted to finally be starting work on a development that looks to herald a new era for one of Ancoats' most cherished landmarks as well as providing 39 high-quality much needed affordable homes in the area.
"We couldn't have done this without the support and input of a variety of partners and would in particular like to thank Manchester City Council, Historic England and the Ancoats Dispensary Trust whose feedback was invaluable in helping us to develop a design that will provide modern affordable homes whilst acknowledging the site's rich historic past by preserving as much of this iconic building as possible."
Cllr Bev Craig, leader of Manchester City Council, said: "This is a landmark moment for the Ancoats Dispensary, a building whose future has not been certain for decades.  Following a number of bids to save it, it's fantastic to now be able to celebrate the start of this project that will both deliver genuinely affordable homes in the city centre, and will at the same time help preserve the heritage features of this building that represents the unique history of this part of Manchester."
Jeremy Hartley, managing director of Eric Wright Group, added:  "Huge credit must be given to the public and private sector in reaching this stage in the restoration of Ancoats Dispensary and we are incredibly proud to have this opportunity to play a part in protecting  such an iconic part of Manchester's history. Our construction team has extensive experience in the sensitive redevelopment of Grade II listed buildings, and we will be working closely with Buttress Architects and with the wider project team to repurpose Dispensary so that it meets the future needs of the community of Ancoats."
Work is scheduled to be completed in December 2023.