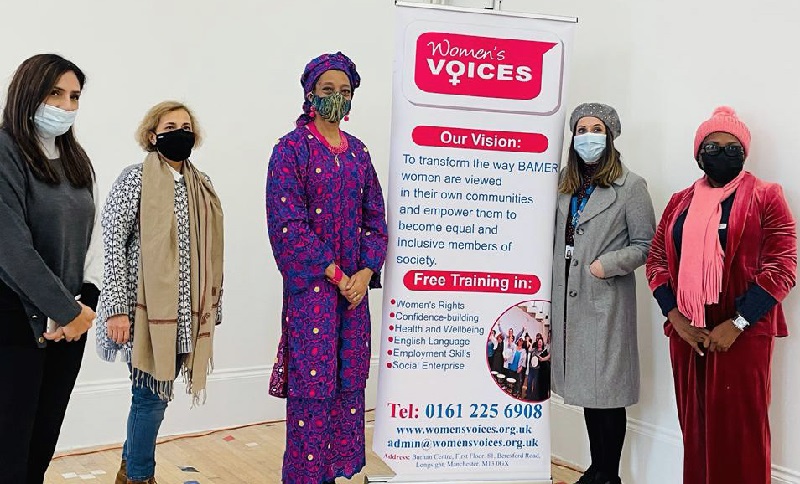 Tuesday 8 March is International Women's Day, a worldwide event that celebrates women's achievements – from the political to the social – while calling for gender equality. Great Places is committed to advancing equality, diversity, and inclusion (EDI). We recognise and value differences across both our customer base and our colleagues.
Back in July 2020, Great Places launched the Community Resilience Fund, which provided much-needed financial support to charities, community groups and social enterprises. One of the not-for-profit organisations that benefited from a £5K donation was Women's Voices, based in Longsight, Manchester.
Women's Voices, established in 2013, work with women seeking asylum, refugees, and other vulnerable women from diverse backgrounds, by providing a platform to meet in a safe and accessible environment. The organisation also offer training for developing skills, confidence building, and encouraging independence.
The donation from Great Places helped with funding the organising of safe outdoor meetups for women, such as walk and talk groups to improve mental and physical wellbeing during the pandemic.
Sarah's Story:
As a result of the funding Women's Voices received, additional administrative support was now an option and gave their Chief Officer more time to focus on supporting a group of Iranian women, who had set up a sub-group within Women's Voices named the Raha Group. The women regularly get together to do arts, crafts, and dance activities, while providing peer-to-peer support, which was especially useful during the pandemic.
Sarah, who heard about the services, received support from several of the Women's Voices programmes. The member of the Raha Group had previously worked in her home country as a designer for an electronics company. Moving to the UK was challenging as the inability to work due to the language barrier affected her confidence and mental health. Sarah also tragically lost her mother due to Covid-19 and found it incredibly difficult being separated from her family at the time. By joining the Raha Group, Sarah felt less isolated and had a support network to talk to.
Sarah was also introduced to the Women's Empowerment Programme. The programme helps improve confidence, motivation, enterprise, and employability skills, along with running a funded ESOL course. Sarah has been committed to attending all sessions, despite the challenges she has faced.
The support Sarah received has been a lifeline for her, and her drastic development is a credit to her hard work, and the support Women's Voices provide. As a result, she is much more confident and now has plans to find online work she can do from home.