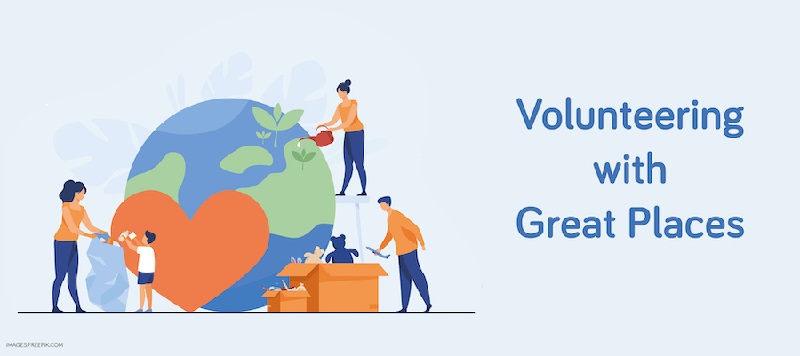 This week is Volunteer's Week (1-7 June 2021), and at Great Places, we want to recognise volunteers for the fantastic contribution they make to our communities as well as share how volunteering impacts the work we do as an organisation.
Great Places' social purpose ethos means we exist to support some of the most disadvantaged people in society. Not only do many of our communities rely on the work of volunteers to help them in times of need, but volunteering opportunities can also be life-changing for the customers we work with on a day-to-day basis.
Volunteering is a great opportunity to give back to others and seeing the difference it makes can be highly rewarding for anyone. However, these opportunities can also be important for our customers to make strides in their personal development and independence. Many of our customers have taken up volunteering to learn new skills, gain experience, improve their wellbeing and help build their careers.
This was the case for our customer, Ellen*, who started volunteering after working with one of our Employability Coaches.
Ellen's Story
Ellen expressed an interest in animals and was passionate about starting a career as Veterinary Assistant. However, due to her anxiety, she was unable to take lessons in a classroom setting and had no experience in a role working with animals. With the help of her Employability Coach, Ellen was able to get funding from us for a Veterinary Support online course where she could learn from home.
However, the biggest step came when Ellen was able to secure a volunteering role at a local pet shop for two days per week. Although this was a huge step out of her comfort zone, Ellen took all of this in her stride, overcoming her anxiety to gain experience in a professional environment.
This volunteering role not only gave her the experience to help build her career, but the opportunity empowered her to believe in herself and continue thriving in this new environment. Through volunteering, Ellen 's confidence has grown enormously, and she has now been able to enrol on the next course where she will complete a diploma in Animal Health.
Volunteering is not only a way to support others but is a great way for people to empower themselves to grow and succeed in their lives. This is why it is such an important area at Great Places, as continuously look to provide these opportunities for our customers, as well as encourage anyone who wants to volunteer in our communities to do so.
We want to thank all those who have volunteered or continue to volunteer in the community for the incredible difference they have made through giving their time and effort to help others.
If you're interested in volunteering, there are a number of ways you can get involved, depending on your interests or availability, and we'd love to hear from you! Simply complete our volunteering opportunities form or email community.investment@greatplaces.org.uk with your name, contact details, area and what you are interested in.
* Customer's name has been changed for privacy reasons.