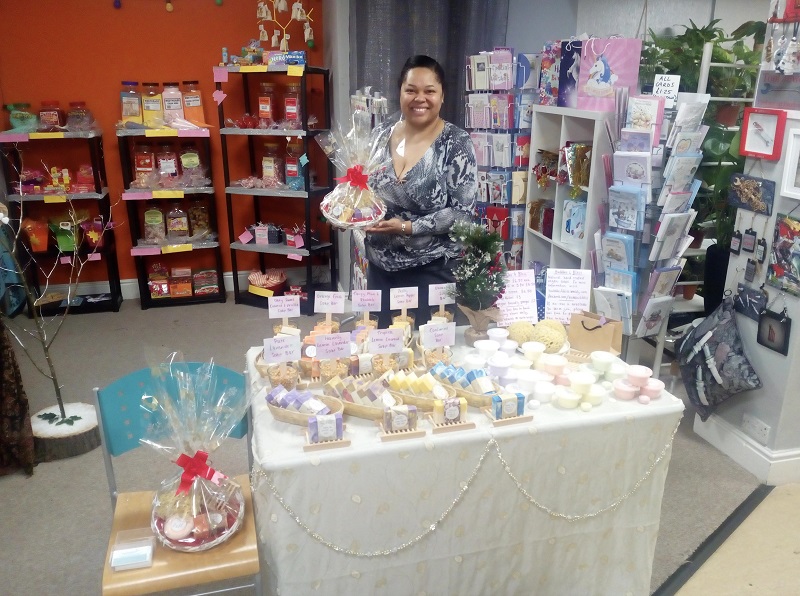 Chloe, one of our customers in Trafford, has lived in a Great Places property for just under 10 years. After being diagnosed with anxiety, depression and an autism spectrum condition (ASC), Chloe decided it was about time she grabbed her dream with both hands and set up her own business!
It's been two months since Chloe officially launched Bubbles 4 Bliss, her home-made soap business, and what a busy two months it has been! We caught up with Chloe to find out more about Bubbles 4 Bliss and how self-employed life is treating her.
Can you tell us about Bubbles 4 Bliss and who or what inspired you to start your own business? 
Bubbles 4 Bliss offers people an element of luxury in a sustainable way. It's a local, natural, vegan soap business. At the moment I sell soap bars and cream soaps, all of which are either unscented or lightly scented making the majority of them hypoallergenic — which is something I was really keen on when starting Bubbles 4 Bliss.
I feel strongly about protecting our environment — which is why all my products are SLS, paraben and preservative free.
As for my inspiration, it was many things. I have always wanted to start my own business — I was just never sure what to do. I knew I wanted to do something creative even though that's not my background. I've always been quite academic you see; I'm very good at science.
Around two years ago, when I was out of work, I went to visit my Stepdad's friend on Rochdale market where he sells his handmade soaps. I was instantly inspired! It was perfect — creating and designing soaps would allow me to combine my skills in science while still being creative. And that led me to start Bubbles 4 Bliss!
The only issue I faced is that some people, like me, avoid soap bars because they have dry skin. I knew that if I was going to do this I wanted it to be for everyone — which is why the majority of my soaps are both hypoallergenic and moisturising.
How did we support you throughout your journey?
I've lived in a Great Places property for just under 10 years now but I never knew just how much additional support you offer!
I got in touch with Nicolette (Employment Skills Manager) who really got to know me and my conditions, and helped me organise all my thoughts. I told her all about my ideas for Bubbles 4 Bliss and she was really encouraging. She arranged for me to attend a Business and Accountancy course which taught me how to write a business plan. It was also Nicolette who suggested I apply for the Residents' Fund – which was the best thing I did. I was awarded £180 from the fund to go towards formulating my recipes, putting them through safety assessments and sending my reports off to the European Union. This was such a huge help.
I was feeling really confident after my course and when a spot became available at Emporium M33 for me to sell my products I had to take it. I couldn't miss the opportunity. The Emporium is brilliant — it gives people in Sale the opportunity to shop locally instead of having to visit large shopping centres or drive to far away artisan markets.
There's a lot to consider when starting a business, more than I ever imagined, and Great Places supported me throughout the whole process. It's been two years since I set out on the journey, so to see it come to fruition is amazing.
How are you finding being your own boss?
I love it. The freedom it gives me is amazing. I have so much flexibility now and I can fit work around my personal life, something that I've struggled with in previous jobs. When you live with anxiety, depression and ASC life can be unpredictable — one day you feel fine, the next you don't. Having the freedom to work whenever I choose is refreshing and it's helped me massively. If I'm not feeling great on a Friday, then I make the hours up on a Saturday. Being my own boss allows me to take life at my own pace.
What's your dream for Bubbles 4 Bliss?
I want to be the best selling natural soap producer in the North West! It's a big dream I know, but I believe in myself. I believe it's important to shop locally and put your money back into your community — and Bubbles 4 Bliss gives you the chance to do just that.
I would also like to be a completely plastic-free company. At the moment the only plastic I use is the pots that my cream soaps come in, however, I do offer a recycling scheme on these.
What piece of advice would you give someone who is thinking about starting their own business? 
Just do it! Honestly – just go for it. Follow your dream and grab it with both hands because no one else will do it for you! Don't wait for everything to be perfect because you will never start. As long as you're passionate about the product or service you're selling and you believe in it, you are ready.
I'd also like to tell people who live with similar conditions to me that this is not a barrier. Don't let this stop you. You can always work around them and turn them into advantages. My conditions are a part of me and I wasn't going to let them stop me from following my dream.
You can find Bubbles 4 Bliss at Emporium M33 in Sale, Manchester.
For more information visit:
www.bubbles4bliss.weebly.com
https://www.facebook.com/bubbles4bliss/