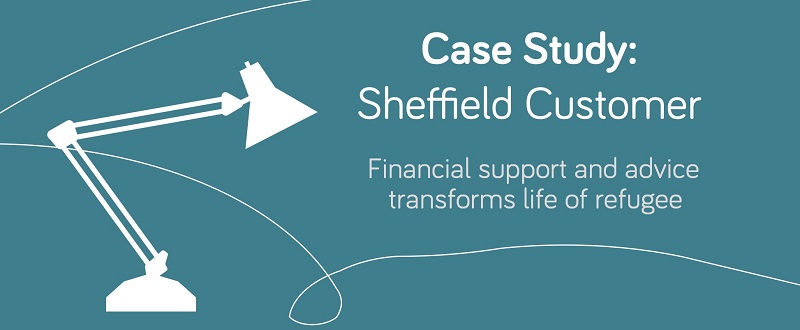 Over the past few months, Great Places' Yorkshire Community & Partnerships Manager and a Neighbourhood Services Manager have been making use of several Great Places' commissioned partnerships and established organisational links to support Mr X.
Mr X is a Ugandan national who arrived in the UK in 2015 as a refugee after experiencing considerable hardship, including torture, in his home country. Mr X arrived in the UK on his own with no family or friendship support and has struggled to adapt to the structures of UK society, including finance management.
Keen to engage with UK life Mr X initially enrolled on a computer course at Sheffield Hallam University in 2016 however Mr X, who was born with glaucoma, found his eyesight deteriorating rapidly and recognising this would impact any future career in the computing sector, regrettably stopped his studies. Mr X is now registered severely sight impaired, with no vision in his left eye and rapidly failing eyesight in his right eye.
Upon leaving Sheffield Hallam University, Mr X sought work. During that time, not understanding or being aware of the support the UK's welfare system provides, he did not register as unemployed for 2 months and as a result, had no money coming in but continued to pay for his rent, utilities and other outgoings. In this period Mr X unfortunately fell into debt.
When he approached Great Places with his predicament, Mr X had already taken steps to try and address his debt situation, negotiating repayment plans with his creditors. However, with little finances coming in he required further support. Having identified an external debt relief grant fund – COSARAF – The Yorkshire Community & Partnerships Manager wrote a letter of recommendation to the charity and they agreed to award £205 to write off Mr X's electricity debt.
Following this, Mr X was referred to Great Places' partnership project with National Energy Action. Working with their energy advisor, an application was made for further energy debt support and £244.74 was awarded to write off his heating debt. NEA's energy advisor continued to work with this customer to switch his energy providers, something that will save him an estimated £66.31 over the year.
Having addressed Mr X's heating debts, the other key themes within the Community Investment team's poverty reduction strategy were looked at. With limited finances, Mr X was advised to start attending The Food Work's Sharehouse Market where, for a £1 contribution, he could pick up fresh food that would otherwise be going to waste. Mr X was also told that due to Great Places' established partnership with Food Works, should he wish, pre-prepared meals were available to him.
In conversations with this customer, it became apparent he was lacking furniture, having only a single bed, desk and chair in his flat. A referral was made to St Vincent's Furniture Store, which provided a wardrobe, dining table and chairs, coffee table, bedside cabinet and other items that St Vincent's estimate would cost £222 to purchase new.
Feeling more settled in his flat, Mr X's health issues, and lack of friends and family in Sheffield meant he felt isolated. To combat this, details of both The Sanctuary Project – a charity that supports asylum seekers and refugees with information, advice and support, and Sheffield Royal Society for the Blind were passed onto Mr X and he plans to engage with them soon.
Mr X still has some outstanding debts and continues to deal with his poor health in an unfamiliar city, whilst an international pandemic limits social interaction. However, he has shared feeling better equipped to engage with others to become an active and happy resident in his new home of Sheffield.
If you are struggling financially and need some support, please reach out to your Neighbourhood Services Manager