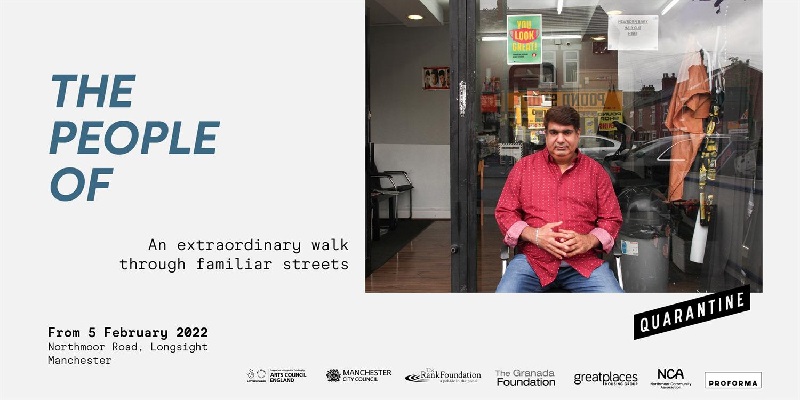 The people of is created from a fascination with how we live together – how our daily lives depend on, and collide with, those we don't really know. It asks about the journeys that we take, how we spend our time, and what it really means to live together.
Great Places Community Investment Team has partnered up with performance makers Quarantine, to create a new audio piece along Northmoor Road in Longsight. The audio tour will invite listeners down a seemingly ordinary high street, taking you past bus stops, shops and barbers while you listen to the invisible thoughts and unheard stories of the people who keep the place going.
'The people of' has been created through interviews and encounters with the people who live and work in the area and local translator Rafia Batool helped us to conduct interviews in Urdu. The walk will feature both spoken English and Urdu (with written translations).
'The people of' will launch on Saturday 5 February from the Northmoor Hub. We've developed a bespoke app for the project, working with Echoes, which will guide you along the route, triggering the audio as you walk, if you need help downloading the app or any other support, there will be volunteers at Hub to give a helping hand from the 5-20 February. We can also loan out a small number of devices for people who are still interested but don't have a smartphone. It will be downloadable from then onwards for anyone.
'The people of' has been developed in partnership with and with the support of Great Places and Northmoor Community Association, and the people of Northmoor; and is funded by Arts Council England, The Rank Foundation and The Granada Foundation.
Northmoor is one of our 'anchor' neighbourhoods and is an area we have been heavily involved in the regeneration of over the last 25 years. We have invested more than £17M, including the development of new homes for affordable rent and shared ownership, helping to transform Northmoor from a 19th century neighbourhood to the people-focused, modern and diverse place it is today.
To find out more about Northmoor's new community Hub please visit: http://www.northmoorcommunity.co.uk/