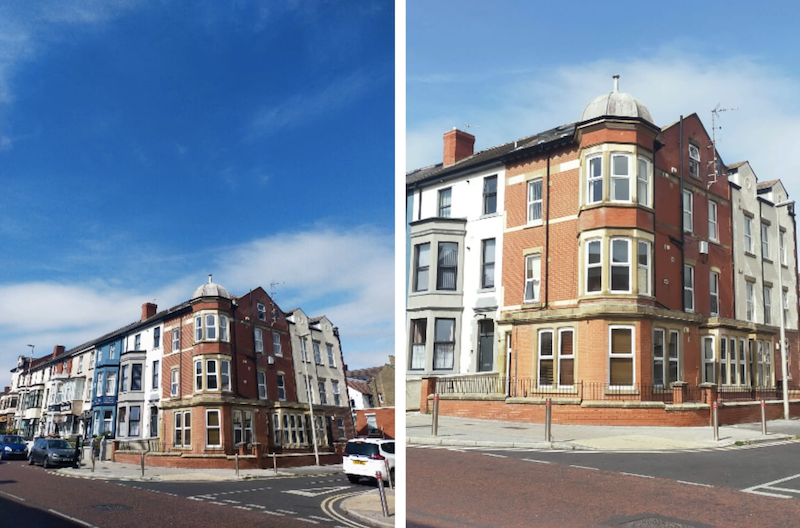 Our Investment Team has recently completed work on six flats in Dickson Road, Blackpool.
Following an inspection of the property by our surveyors John Rosler the report identified the need for significant exterior work including repairs to the roof, guttering and brickwork. Work also involved making improvements to three vacant properties in the block.
The work included re-set the stone mullions (the vertical piece of masonry separating the panes of glass) and the stone copings (the roofs on walls) that form the perimeter of the ground floor bay windows as they had become dislodged due to metal packers placed under the stone mullions rusting, expanding and lifting the stone copings causing water penetration. This involved removing and refitting stone copings at the gable end, stabilising and repairing the damaged sandstone to the exterior of the building, and painting the external render and metal railings.
The team also took the opportunity to carry out additional improvement work including jet washing the external paving, replace any broken flag stones, renewing the sunken block paved car park and path area to eliminate any trip hazards, and re-decorating and re-carpeting the communal areas.
Thanks to the contractors WRPS and Julie Hindmarch the Neighbourhood Services Manager the works went smoothly and feedback from our customers was extremely positive.
One customer Charlie, who has lived at the property for the last 24 years, commented that he was pleased with the works and is looking forward to meeting his new neighbours once the works to the vacant properties are complete.
The building will now be a more welcoming place for both the existing tenants and the future tenants to the three void properties.