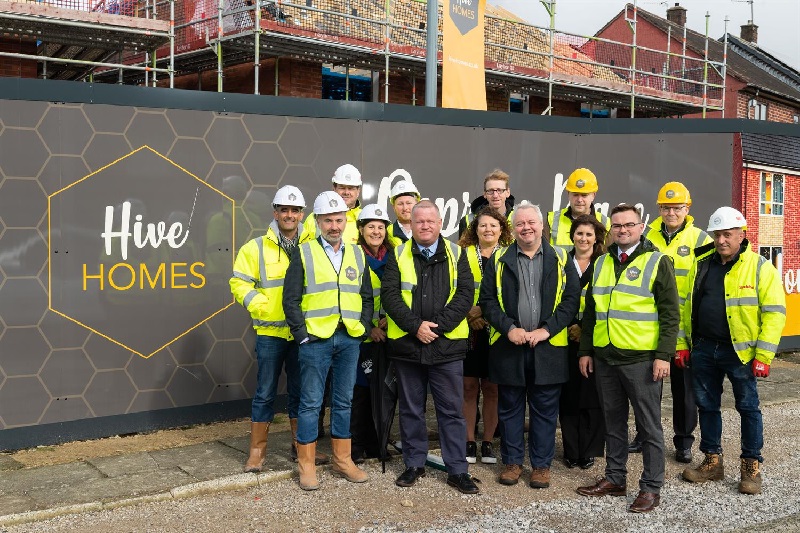 Local councillors recently joined teams from Great Places' joint venture company Hive Homes and Seddon on a site visit to mark the official start on site of Hive's landmark 48-home development Osprey Place in Middleton.
Rochdale Borough Council's Housing Portfolio Holder Councillor Daniel Meredith, Assistant Director of Economy, Mark Robinson and Assistant Director of Place, Donna Bowler were given a tour of the 2.64 acre site due for completion in January 2022. They were joined by Sasha Deepwell, Dominic Conway, Ed Milner from Hive Homes and Duncan Williams from Seddon.
The development on Stainton Drive in Middleton will offer a mix of 48 two, three and four bedroom homes for sale, all designed for stylish, modern living in a convenient and popular location.
This is the first site for Hive, a joint venture between Greater Manchester local authority and 10 local housing associations with a second site also planned for a 14-acre former Car Craft site on Nixon Street in Castleton.
Hive Homes is backed by Great Places and 9 of the region's leading housing associations and the Greater Manchester Combined Authority (GMCA).  Profits generated from development activity will be ring-fenced and recycled by the ten housing providers back into delivering affordable housing across Greater Manchester.
Ed Milner, Managing Director at Hive Homes, said: "We're delighted to have officially started on site at our landmark first scheme. It was great to host Councillor Meredith and the council team around this mix-tenure development that will provide 48 high-quality much needed new homes in the area.
"Getting to this stage under the current circumstances has proved a challenge and is a real testament to continued support and hard work of partners and design team that has made this possible."
Matt Harrison, Chief Executive of Great Places and Chair of Hive Homes, added:
"It's great news that Osprey Place is now underway and will make a significant contribution towards the region's housing needs.
"All the partners are looking forward to seeing the development take shape with Seddon leading on this high-quality build that will be a welcome addition to the local area."
The Leader of Rochdale Borough Council Neil Emmott added: "We welcome the additional benefits of delivering housing on council land through this joint venture. New Homes on Osprey Place form part of an overall long term masterplan for Langley to bring forward both homes for sale and affordable homes, approved by the council and supported by the local community".
Duncan Williams from Seddon added: "We're delighted to be working alongside Hive on this scheme at Osprey Place, as an affordable housebuilder it is a great experience to work alongside this collaboration of Greater Manchester housing providers to offer excellent new housing that is high in standard and quality whilst financially accessible for families either as existing homeowners or first-time buyers"
Hive Homes is also keen to work in partnership with other public and private sector organisations to participate in project delivery.
Mr Harrison said: "We'd welcome contact and discussions with any public or private sector organisation that can help us to access sites or otherwise help us with the delivery of new homes."
Osprey Place has something for everyone from first-time buyers to growing families. Prices are from £189,950 and Help to Buy is available on many properties, making home owning dreams even more affordable. For further information visit www.hive-homes.co.uk