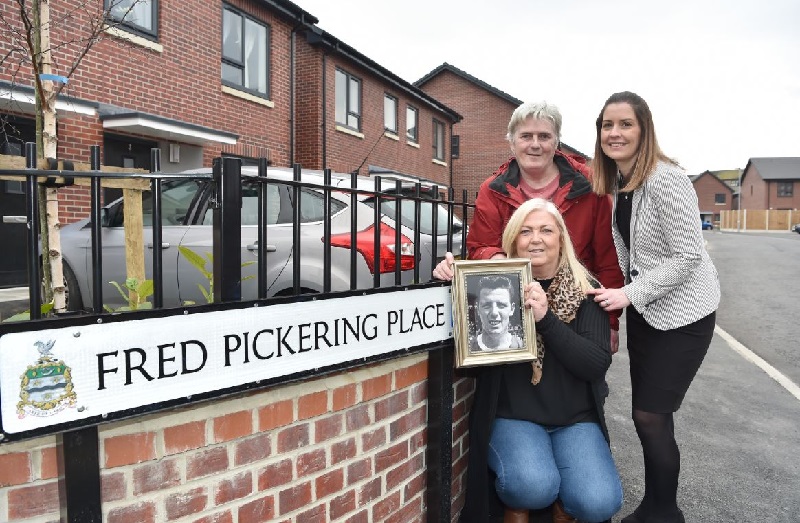 Great Places officially cut the ribbon on their new  £19million housing developments across Blackburn.
In total, 138 new homes have been built with 123 of those being offered for affordable rent and 15 offered for sale through shared ownership on sites at Shakespeare Way in Griffin as well as at Bowen Street, Shorrock Lane and New Wellington Street in Mill Hill – which has a road named after former Blackburn Rovers and England striker Fred Pickering who lived in the area.
Fred Pickering was a star of the 1960s and early 1970s while playing for Blackburn Rovers, Everton, Birmingham City, Blackpool and England.
Striker Fred signed for his hometown team Rovers after leaving school.
The converted defender netted 61 times in 134 matches in two spells with the Ewood Park team.
He smashed the domestic record transfer between British clubs when joining Everton in March 1964 for £85,000.
He then went on to solidify his legend as one of Everton's great goalscorers.
His England career saw Fred score a hat-trick on his debut but he narrowly missed out on the World Cup Winning 1966 squad through injury
Representatives from Blackburn with Darwen Council were invited for a tour of four sites across Griffin and Mill Hill by Great Places Housing Group and their building contractors.
Helen Spencer, Executive Director of Growth at Great Places, said: "We are really proud to showcase our new homes across these sites. Each of the sites has its own history, and was a challenge for local residents to live alongside so to transform them into new homes is a real benefit.
"We experienced high demand for the homes with more than 400 people applying for the new homes on the Griffin development alone.
"We also saw a huge demand for our shared-ownership homes – offering residents a chance to get on the property ladder, and we look forward to delivering more of that tenure in Blackburn.
"In Mill Hill, we have delivered our largest modular development to date – a new way of building houses – and it is fantastic to see the end result there.
"The best part of the day was hearing first-hand how these new homes are having such a positive impact on the communities in Griffin and Mill Hill."
On the naming of the road after the Rovers legend, she added: "Our focus at Great Places is on building strong communities and so it's incredibly fitting that this street is named after Fred who was so well known in Mill Hill.
"It was also lovely to see how much it meant to all of his family – including his great-grandchildren who were at the unveiling too.
"We hope the new customers will enjoy living in the new homes on Fred Pickering Way – we've already heard so many stories about how our schemes in Blackburn are transforming lives."