Christmas is not only a time for celebration but also a time to give back to communities and spread festive cheer at what can be a difficult time for many. At Great Places, we launched the Cheery Christmas campaign as a way to do just that, using Social Value funding contributed by our suppliers.
The latest project saw Great Place's suppliers Engie, Forbes, Devonshire's, Casey and Kier contribute £10,000 to provide various support packages and events including food parcels, presents and activities to various neighbourhoods and schemes.
The 2021 highlights
As well as Christmas parties at Foxlair Court, Elk View Court and Kingfield Lodge, Great Places' customers came together to enjoy Christmas carols at The Willows and coffee mornings at Carmel Court.
Movie nights, crafts days and buffet meals were organised for mothers and babies at Ellen Court and Olivia Lodge, whilst Pomona Gardens and Pullman Close received a festive makeover with presents, Christmas trees and decorations for the communal spaces.
One customer expressed their gratitude to Great Places saying, 'I feel so lucky to live in a place where we have a beautiful tree and all given gifts, thank you so much'. Trees, garlands and tinsel also brought a smile to customers' faces at Windmill House and In Partnership, making their home feel festive in the lead up to Christmas Day.
A portion of the funding was used to provide food packages and meals to neighbourhoods and schemes in need of valuable support. In Flyde, elderly customers were able to come together again after extended isolations due to COVID-19 with a themed Christmas lunch. Similar support was brought to customers at Castlecroft and Peel Lodge, celebrating with a Christmas Day dinner for those unable to spend the holiday with family and friends.
Great Places was also able to provide presents to customers and their families. Across Oldham, Santa came early as 25 families with children in need of additional support were given various gifts and toys. Customers at Christine Court, one of our schemes housing women and children at risk of homelessness, were given presents that they ordinarily wouldn't have received without the Cheery Christmas project.
The Tenancy Sustainment Team were able to use a percentage of the campaign funding to distribute vouchers to customers accessing the service. These vouchers helped to provide gifts to some of our most vulnerable customers, with one individual sharing that they '[didn't] have to worry as much' following the support they received.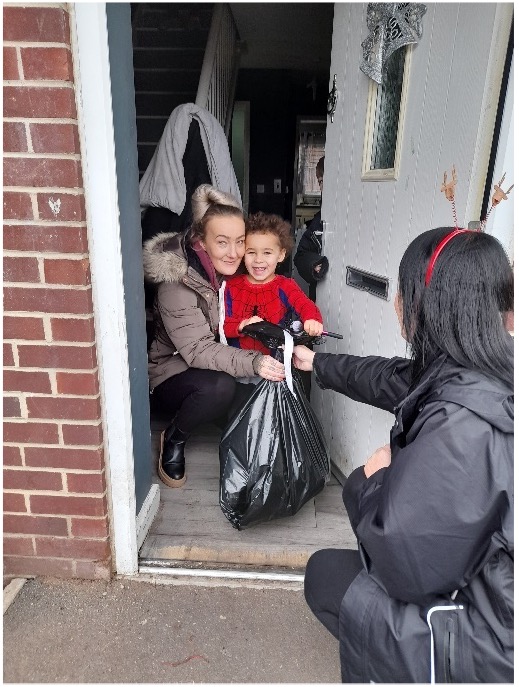 Additionally, customers across Lancashire received festive hampers, 103 gift cards were given to Housing First customers and those living in supported accommodation at St. Wilfrid's were given presents to lift their spirits over December.
The project not only brought customers together within their communities after a long and difficult year of isolation and restrictions, but Cheery Christmas also provided much-needed support to those struggling financially and emotionally.
Great Places wants to say a huge thank you to our suppliers, Engie, Forbes, Devonshire's, Casey and Kier, whose contributions made this project possible.