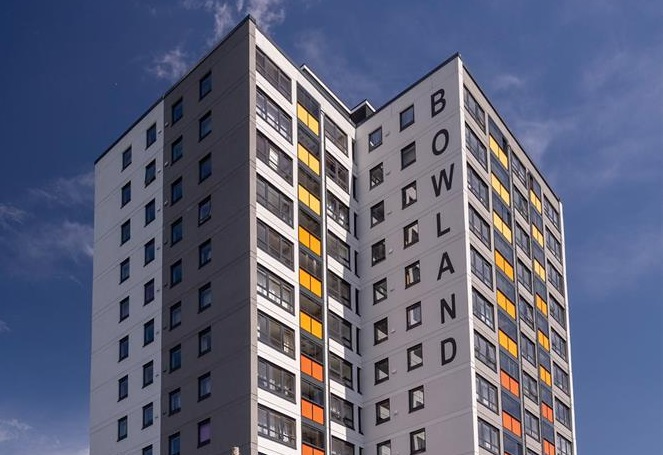 For those who haven't had the pleasure of seeing the newly-renovated Bowland House in Blackburn yet, I encourage you to do so.  The end product hasn't come together without a fair amount of energy, resources or determination but it's been worth it all.
The official opening rounded off an amazing journey for customers and colleagues, with the guest of honour being a local celebrity in former World Superbike champion, Carl Fogarty.
The project was an 18-month-long project on the ground, following at least five years of assessment, investigation and planning.
The project included extensive renovations including the insulation of the external walls, installing new windows and flat entrance doors that have a 60-minute fire rating, creation of winter balconies and modernisation of communal areas via new floor coverings and redecoration.
The internal communal areas were then made dementia-friendly by the installation of art images of local landmarks thanks to the Bowland House art group and collaboration with Blackburn College.
As an added extra we have also developed a digitally-enabled building and provided residents with a year's free 5G wifi. We have planned customer training and hardware to help residents enjoy the benefits of digital life.
The project faced a number of challenges, the most significant being that the project took place during the global pandemic. For those of you who know Blackburn, some tough weather conditions were also a huge challenge, especially when we completed window replacements and external wall treatment works.
The biggest positive for me that came out of the project was that our customers can now be proud of where they live and we can be assured that customers are safe in their homes. Customers have been so patient during work, especially under the circumstances that they faced with the pandemic.
I feel really proud that I have been able to be part of the project team, and as a group, we have lots of experiences that we can use to support other large-scale projects in the future.

I wish to thank everyone that contributed to the finalisation of the project  – you can all be really proud of your achievements and for having a positive impact on our customers lives.
The project is the literal manifestation of the local football team's motto Arte et Labore – skill and labour.