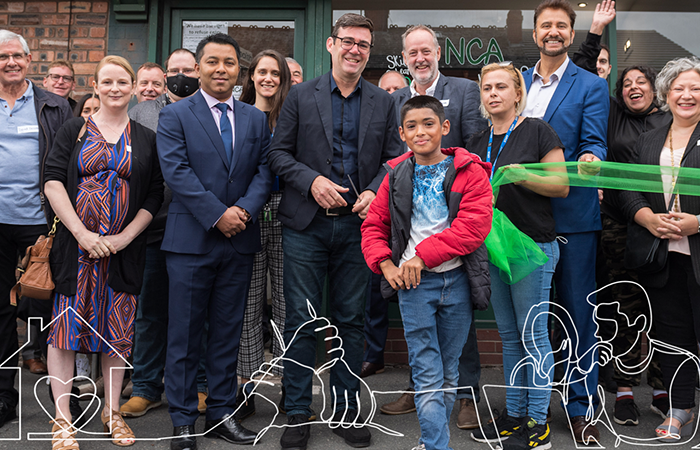 The Mayor of Greater Manchester Andy Burnham has officially opened Northmoor's brand new Hub.
The recently transformed community facility is used by the Northmoor Community Association (NCA) to deliver an extensive range of advice and online courses for local people including the Next Step project.
The Hub, once home to the Northmoor community Launderette, also features a community café, internet and printing services, information station and a library.
All of these services are complemented by the work of the nearby Northmoor Community Centre which has been working with local residents for more than 20 years.
Mr Burnham was accompanied by Matthew Harrison, Chief Executive of Great Places, and local councillors as he cut the ribbon on the new facility.
Mayor of Greater Manchester, Andy Burnham said:
The Hub is a fantastic new community facility for Northmoor – you can feel the community spirit as soon as you get here.  It provides local people with an essential space to get together, learn and develop and I am proud to support the opening.  It's also great to see the new retail units at Great Places Cooperative Building, which will provide an excellent opportunity for small businesses that will bring social value into the area and further enhance the local high street.
Fiona Gallagher, Community Development and Volunteer Coordinator, Northmoor Community Centre said:
It's been 20 years since NCA was first formed following on from the work of the Northmoor Area Residents Association. Over the years we have been able to serve our local community and we are so pleased to now be opening our Northmoor Hub which will enable us to increase and improve our provision of essential services for the community. We are grateful for all the support we have received from all our partners including Manchester City Council and Great Places Housing Group who have been key partners throughout our history; we look forward to our continued close relationship as we continually evolve to meet the needs of the community.
Matthew Harrison, Chief Executive, Great Places Housing Group said:
After 25 years, Great Places remains fully committed to the Northmoor community and we are proud to see how our work has changed and improved the neighbourhood and offer for local people, making it a place where people want to live and choose to stay.  We are delighted to have supported the creation of the Hub and are confident that alongside our new retail units, they will make a lasting impact and provide even more invaluable services and facilities for the people of Northmoor.
As part of the opening, the Mayor of Greater Manchester also visited three formerly vacant retail units, which have been updated as part of the wider renovation works to Great Places' Beswick Cooperative building, which includes 19 apartments and is also home to Northmoor Community Centre.  The refurbished units are being offered at a negotiable rent to small local businesses who can bring in social value to the area and complement the services already on offer to the local community.
Alongside a Covid-19 business grant from Manchester City Council and the generous support of other funders, the Hub was transformed in consultation with residents and made possible by landlord and long-term partners, Great Places, who carried out the renovation and provided project management support and signage through their social value activity procured through their contractors, Casey and IGL Surveying.
Great Places has invested more than 17M over the last 25 years to provide new affordable homes and transform Northmoor into a modern and inclusive place to live and work.
To find out more about Northmoor's new community Hub please visit: http://www.northmoorcommunity.co.uk/